2008, Oct 4 - 19 "The POWER OF THREE- Exploring the Triptych"
Xchanges Gallery, Victoria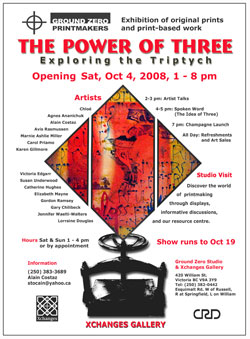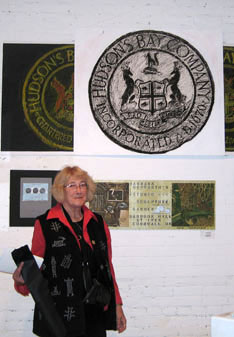 Multiplicity is inherent to printmaking in both traditional and contemporary art.
The numerous state-proofs of a print matrix, the image ghosts of the monoprint process,  leave a chronological trail, tell a story of evolving intent, a path to the conclusion and resolution of a complete work: the sequential nature of printmaking media echoing the triptych narrative form.
The triptych form, physically and thematically, links three distinct pieces into one work.
In The Power of Three, GZPS members show new work in intaglio, lino and woodcut, monoprint, silkscreen, new media and  print-based sculptural  and installation pieces exploring the  numerous possibilities of the triptych form.
Other 2008 Events:
Vic West Art Quest, Studio Tour, May, 2008
Victoria Arts Connection Exhibition - Pacific Festival of the Book - WordSpeak/ImageSpeak - Collaborative Book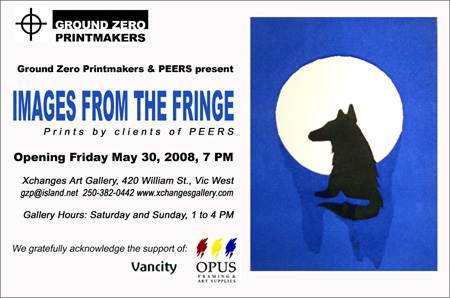 Back to Top
2007, Dec 1 - 16, "WORDSPEAK/IMAGESPEAK", Xchanges Gallery

Ground Zero Printmakers members' annual exhibition, "Word Speak/Image Speak", highlights the interplay of words and images in print-based works. GZP artists will present etchings, woodcuts, monoprints, handmade books, sculpture, and more with their unique interpretations of this thought-provoking theme.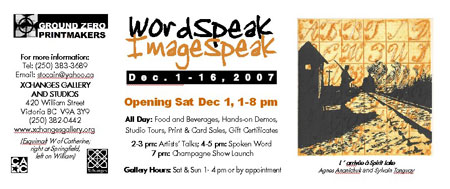 2006, June 10 - 25, "CROSSOVER", Xchanges Gallery
In "Crossover", Ground Zero members explore the role that printmaking plays in their overall creative art practice. This exhibition will include prints, print-based work, and works in other disciplines.
2006     Open House in the print studio in conjunction with Xchanges Open house 2 days - December

2006  "STRANGERS 2 ", Hastings, New Zealand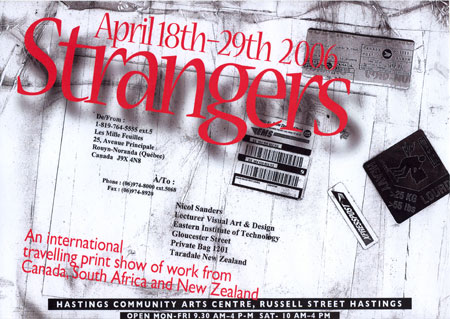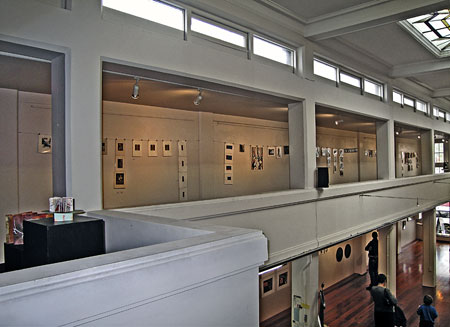 2005     "Strangers", Xchanges Gallery - initial show
2005     "Strangers 2", Community Arts Council of Greater Victoria
2005     "Strangers 2'.  La Fontaine des Arts, Rouyn-Noranda ,Que
2005     Ground Zero Open House - Dec. with Xchanges Open House
2003   "Recent Work", Xchanges Gallery
2002   "Micro/Macro II" National Library of  South Africa Cape Town SA
                      
2001    
"Inky Fingers",  McPherson Playhouse Gallery, Victoria
"Micro/Macro" - Community Arts Council of Greater Victoria Gallery - Victoria
"Micro/Macro Reprise" - Langham Court Theatre, Victoria BC
2000   
"Print Indaba" Ground Zero Printmakers, Xchanges Gallery, Victoria, & University of Pretoria SA - University of Pretoria, Pretoria South Africa
"Print Indaba",  Gallery at the Mac, Victoria,
"Print Indaba", Greatmore Studio, Capetown, South Africa - Print exchange show with Ground Zero
1999
"The Book Project"  40 printmakers & poets in collaboration
with Victoria Edgarr, Paula Maloney, Sarah Cassidy, Ground Zero Printmakers
Xchanges Gallery, Victoria
1997
"Strait Exchange II" Ground Zero Printmakers - Malaspina Printmakers Gallery - Vancouver
1996
"Strait Exchange I" Malaspina Printmakers - Xchanges Gallery - Victoria
"Cuts & Bites", Ground Zero Printmakers, Comox Valley Art Gallery, Courtenay
1995  Group Show 95" Ground Zero Printmakers, Small Works Gallery, Xchanges
1994 "Grounded" Ground Zero Printmakers, The Roving Eye Gallery, Victoria